NANCY FINLEY'S UNTOLD STORY OF THE OAKLAND A's DURING THE FINLEY DYNASTY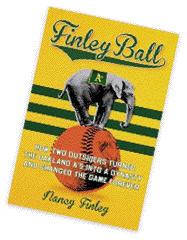 During and leading up to the Great Years that saw three consecutive World Series championships … there was a pair of eyes and ears at the Coliseum seldom noticed by others … Carl Finley's teenage daughter, Nancy Finley.
Now, Nancy Finley tells the "untold story" of growing up and coming of age amid the glitter and glory of baseball history. And as never heard before – the Finley side of the story!
She answers…
From what web of corruption did Charlie Finley struggle to rescue the team soon after he acquired the franchise in 1960?
How did that web of corruption consign the team to bottom place year after year?
How did Charlie turn it around and build the team destined for Glory?
Who was the "unseen hand" behind the team?
Whatever happened to Harvey The Mechanical Rabbit?
What was it about Harvey that gave Nancy a lifelong fear of rabbits?
Who were the A's "Ball Girls"?
Who was in the abandoned bank vault in Oakland in the middle of the night? What were they doing there?
Who voted Charlie's proxy at annual owners' meetings? And Why?
What happened on Flight 85 that caused such a rhubarb?
What is a "rhubarb," anyway?
Who whispered in Charlie's ear about which players to acquire?
What "gift" was Charlie born with that explains his strange fondness for colors?
How many times, exactly, did Charlie fire Alvin Dark in one night?
Who got in a fistfight with Charlie O' the mule in right field? Who won?
What happens to the clubhouse banquet food when the team loses?
What mistake was made on the 1974 World Series trophy and where is it today?
What prominent baseball exec tried to French 16-year old Nancy at the ballpark?
What became of Charlie "O" the Mule?
What secret did Charlie see in the eyes of Vida Blue?
What did Charlie see when he looked in the mirror?
What did Carl Finley do that changed the destiny of the team?
What midnight meeting took place in a car in Kansas City that changed the destiny of the team?
Why did Charlie drive a bus into left field and set it on fire?
What is worse: getting caught stealing second, or getting caught shoplifting?
What is the truth behind the Mike Andrews affair?
Nancy Finley tells all … and she has a lot to tell!
NANCY FINLEY's STORY
Witness to Baseball History
FinleyBall!
And The Untold Story of the Oakland As -
"The Team of the Century"
NOW AVAILABLE IN HARD COPY
IN BOOK STORES
Publisher: Regnery History