The Man The Game The Times
Charlie Finley was a baseball genius. Often controversial, certainly driven, he cobbled together unlikely, eccentric, but talented teams and almost literally willed them to three consecutive World Series championships, a feat equaled by only one other team in baseball history, the New York Yankees.
Preview The Kansas City Athletics History Documentary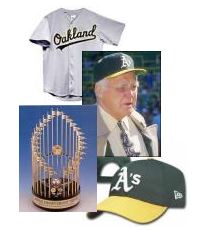 Charlie O. Finley 1919 to 1996
Grandson of Randolph D. Finley, who was born: November 18, 1867 in Tuscaloosa, Alabama, a horse trader and farmer. Randolph Finley died August 10, 1922 in Ensley, Alabama, and Charlie's grandmother, Emma Caroline Skates, born September 11, 1870 in Tuscaloosa, Alabama, died January 25, 1934 in Ensley, Alabama.
Son of Oscar A. Finley and Burma Fields-Finley in Ensley, Alabama.
Oscar A. Finley worked as a machinist in Alabama's steel industry, as did most of his brothers.
Charlie O. Finley, born: February 20, 1919, in Ensley, Alabama, died: February 19, 1996 in Chicago, ILL,
buried in Merrillville, IN,
His father, Oscar Finley, moved the family north to Gary, Indiana, in about 1927, hoping the steel mills in the north would pay more. The remaining Finley family stayed in Alabama during the 1920's.
Note: Oscar's brother, Carl A. Finley, Sr. born Nov. 13 1896, in Ensley; moved to Dallas, Texas in 1920, and started selling used cars. He fared better during the depression than had he had stayed at the steel mills.
Carl Sr.'s, son, Carl A. Finley, Jr., who would later help manage the Baseball team in Kansas City and later Oakland, CA, was born in Dallas, Texas, March 23, 1924, and died March 30, 2002 and is buried in Dallas, Texas.
Interesting family legends about Charlie and the Finley family:
As a child, Charlie O. Finley suffered from a speech impediment. He learned to overcome this by talking slowly; as an adult, this way of speaking often intimidated others.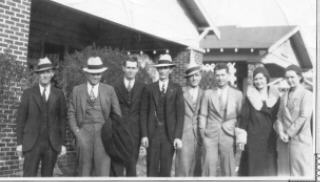 FINLEY family in Tuscaloosa, Alabama, circa 1916
Left to Right: Oscar (Charlie's Father), Carl Sr., John Thomas, Robert, Emmett, Harry, sisters, Mary, Clara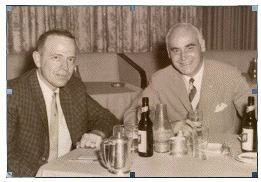 At left, Carl A. Finley, Vice President of the Oakland Athletics from 1962 to 1985, meets with Charlie Finley. At this meeting Charlie persuaded Carl, then principal of Thomas Jefferson High School in Dallas, Texas, to quit and work for the team in Kansas City.