The A's Unseen Hand: Carl A. Finley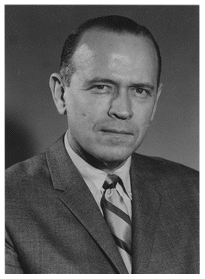 Seldom mentioned when conversation gets around to the A's great years is the name of another Finley … in this case Charlie's cousin CARL A. FINLEY.
Carl did not seek attention to himself, but he played a huge role in the success of the A's, as General Manager and Vice-President of operations throughout the 70's. And unlike the controversial team owner, Carl was liked and respected by all who came in contact with him in the baseball world.
It is said, "Carl did the work of six, eight, even 25 individuals." Take a look at any MLB yearbook at the present time, at the number of front office employees the team carries, compared to the A's of the '70's; where Carl and three or four others handled all of the front office functions, there are now around 80 people!
In those days they didn't have an entire organization to handle World Series tickets; Carl and his teenage-daughter simply rented a vacant bank building in Oakland, and stored the tickets in the vault. Then, in the wee hours of the night they would slip into the vault and undertake the enormous task of opening envelopes from thousands of fans seeking to purchase tickets. Just the two of them!
During those years Carl was physically at the Oakland Coliseum on a daily basis.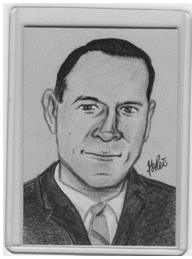 Sketch by artist
KOHEI NIRENGI
Tochigi, Japan
Mr. Nirengi does wonderful sketches of major league baseball historical personalities.
Charlie counted on Carl and used him as a "sounding board" in daily early-morning phone conferences with him, from his Kansas farm. During these conferences Charlie liked to brainstorm ideas, and he typically trusted only Carl to hear them. These regular early-morning phone talks continued for many years after Charlie sold the tem.
In 1976 Charlie handed his voting proxy as a team owner to Carl, so Carl could vote in Charlie's stead at the annual MLB owner's meetings. Charlie stopped attending these meetings due to his conflict with then-commissioner Bowie Kuhn.
From 1976 on Carl took over even more day-to-day responsibilities.
At Billy Martin's (A's manager) behest, when the A's were sold to the Haas family, it was agreed Carl would remain as a V.P. Carl assisted the Haas family with the transition, and preparing for their first full season in 1981.
Before Carl joined the organization, he was a school principal in Dallas, Texas. Charlie begain calling him and urging him to drop everything and come to Kansas City to help him with the team. Though Carl initially resisted, he eventually gave in and resigned his position with the school district, packed up his family (wife Helen and daughter Nancy) and flew to Kansas City to begin a new life. Charlie quickly grew to depend on Carl to keep the organization functioning as smoothly as possible during those turbulent times.
Carl's daughter, Nancy, is currently writing her story of coming of age with baseball history, her father, and the greatest team of the century.
Carl's Rare Lifetime Pass


In 1976 The American and National Leagues issued to Carl Finley a rare life-time pass to all MLB games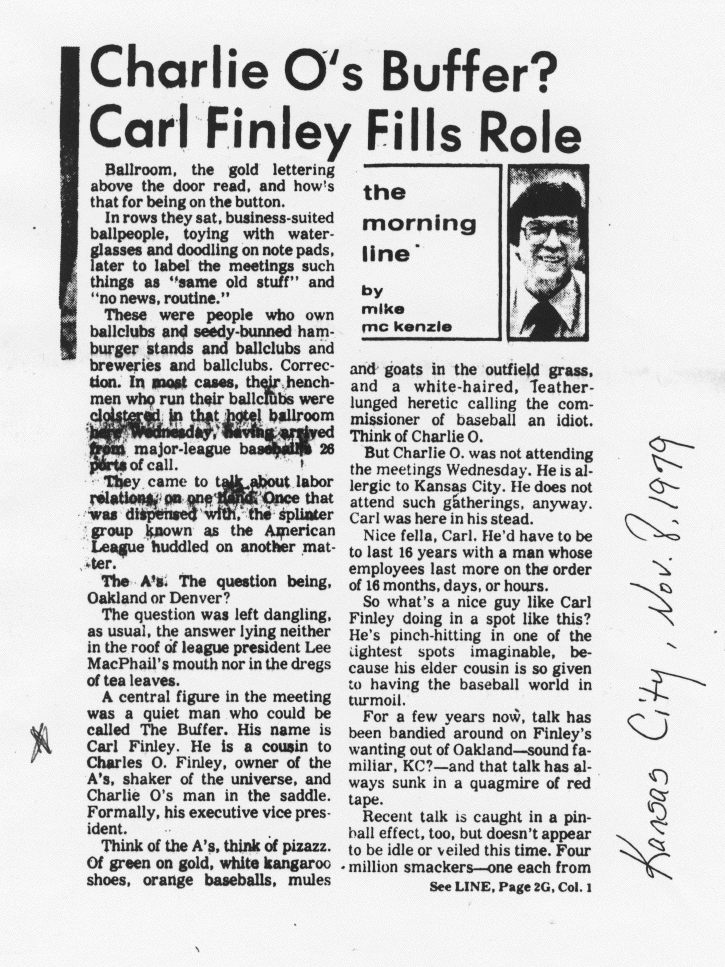 "His name is Carl Finley. He is a cousin of Charles O. Finley, owner of the A's, shaker of the universe, and Charlie O's man in the saddle. Formally, he's executive vice-president." – Mike Mckenzie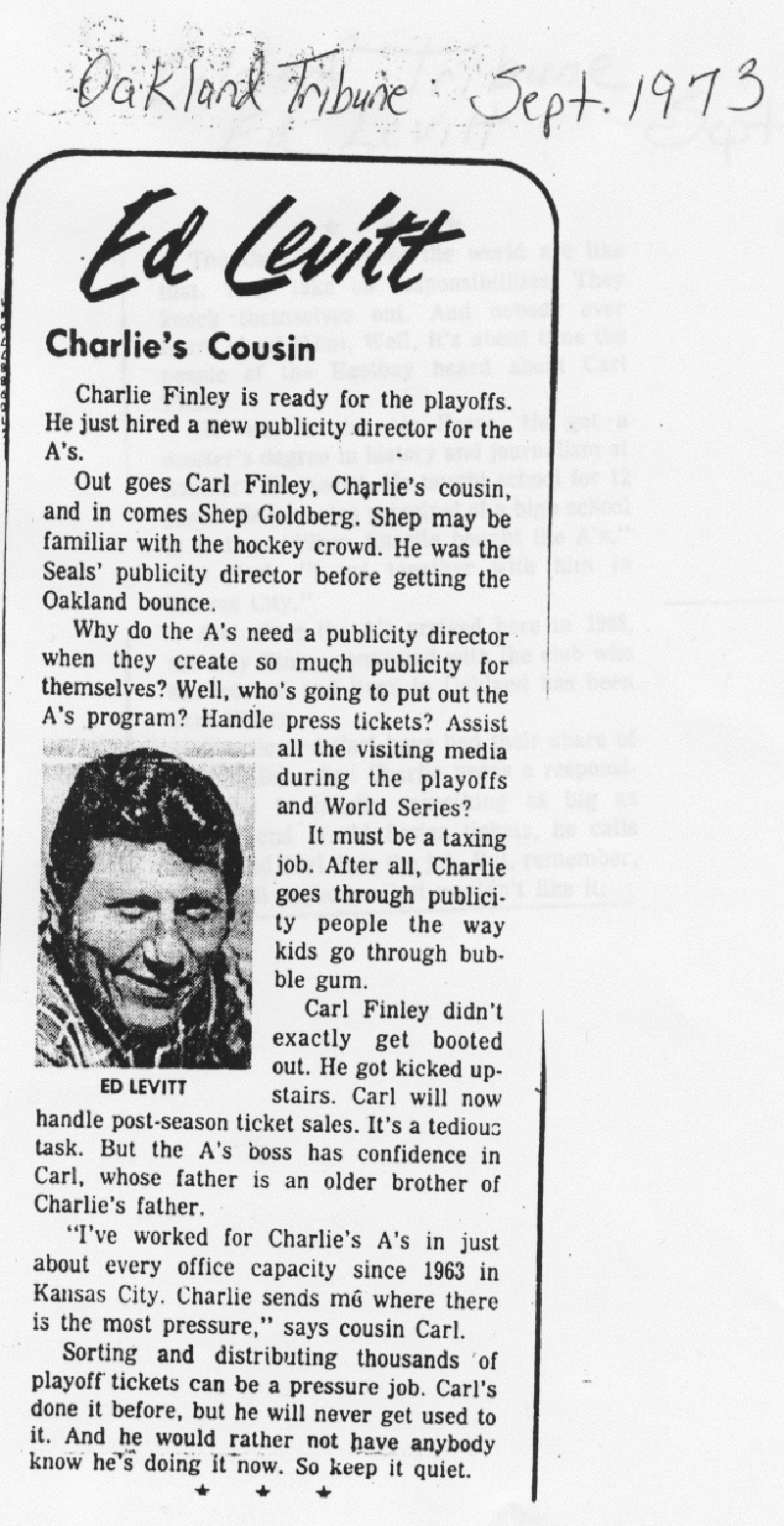 "The Carl Finley of the world are like that. They take on responsibilities. They knock themselves out. And nobody ever hears about them. Well, it's about time the people of the East Bay heard about Carl Finley." -Ed Levitt