FinleyBall!
1974 – The "Team of The Century" – Sports Illustrated
WORLD SERIES CHAMPIONS
1972 – 1973 – 1974
Post-season playoffs 5 consecutive years!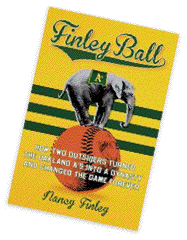 Nancy Finley's FinleyBall! THE UNTOLD STORY
Published by Regnery History
Vida Blue says…
"A book from the Finley point of view is long overdue. Nancy was there! She saw it happen. Our 'dynasty' is one of the biggest stories in all of baseball history."
NOW AVAILABLE IN HARD COPY IN BOOK STORES AND ONLINE
Click here to learn more!
The Finley Legacy: 1960 to 1980
Charlie O. Finley purchased Kansas City Athletics in 1960
Changed the team colors to green and gold (reason explained in Nancy's book)
Cousin Carl A. Finley joined the team in 1963 as Vice-President, from Dallas Texas
1968 moved team from Kansas City to Oakland
Started the designated hitter now in use in the American League
Started night games for World Series games
3 consecutive world series champions (1972, 1973, 1974)
Post season contenders 5 years in a row ('71 through '75)
First team to have bright vibrant team uniform colors
Charlie O. the Mule was team mascot, a gift from Governor of Missouri 1964
Charlie O. the Mule died in 1977, was cremated. Location of remains are secret
Promoted the use of orange baseballs for better visibility (never caught on)
Team sold 1980
The 72-74 team selected as "Baseball Team of the Century" by Sports Illustrated in 2000
Charlie promoted cousin Carl's 16 year old daughter, Nancy, to "Vice President"
(Nancy demoted the next day by her father, Carl Finley)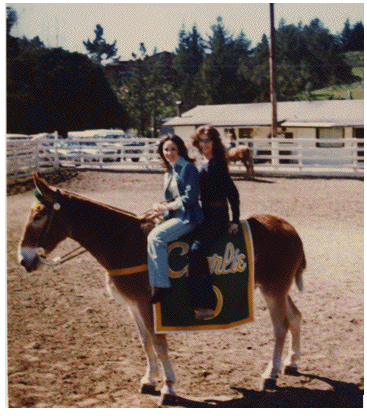 ABOVE: Author and columnist Marcy Bachmann (left) and Carl Finley's daughter
Nancy, taking a ride on Charlie 'O (circa 1975-76). Marcy had a daily column in
the Oakland Tribune called Frankly Female, and was the only female journalist
to cover the A's World Series games in 1974 and the post-season games in 1975.
Charlie Finley featured on the cover
of Time Magazine August 8 1975
Nancy Finley glued the balls to a
black poster board – she was 16
Close Up
After the sale of the Oakland A's in 1980, the new owners did not want to use the rabbit "Harvey", who popped up out of the ground to supply new baseballs to the pitcher. Harvey's eyes glowed as he turned in a circle, and descended back into the ground.
Whatever happened to Harvey, anyway? Look for the answer in Nancy Finley's memoir, "Dugout Daughter: Witness to Baseball History."
During the World Series era in the early to mid-1970's, the stars of the hit T.V. show "Charlie's Angles" were in negotiations to visit the Oakland Coliseum, and sit next to A's owner Charlie Finley. Unfortunately, this fell through. Why?
Charlie Finley never sued the City of Oakland for breaking their promises. He was not a litigator.
In May 1996, the Oakland Coliseum had a Charlie Finley day, in which they presented a green and white street sign that said "CHARLIE O. FINLEY." A replica of this street sign was given to Carl A. Finley, Jr., and three of Charlie's children who attended. The original sign was to be placed in Mesa, Arizona where Spring training is held. Mesa, Arizona???
Where did Finley get the team colors, green & gold? These were the colors for his favorite football team, Notre Dame. But, is that all there is to the story?
WORLD SERIES
TEAM RECORDS
The Oakland A's and the St. Louis Cardinals share 2nd place for the most world series won over the last century. Below are the winning teams and the number of times they have won the series.
New York Yankees (26)
St. Louis Cardinals (11)
Oakland A's, Philadelphia (9)
Boston Red Sox and Brooklyn-Los Angeles Dodgers (6)
Cincinnati Reds, New York-San Francisco Giants and Pittsburgh Pirates (5)
Detroit Tigers (4)
Baltimore Orioles, Boston-Milwaukee-Atlanta Braves and Washington Senators-Minnesota Twins (3)
Chicago Cubs, Chicago White Sox, Cleveland Indians, Florida Marlins, New York Mets and Toronto Blue Jays (2)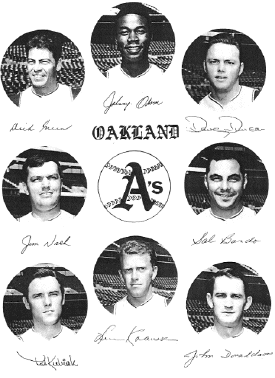 THE OAKLAND ATHLETICS 1968 STARS FOR THE
FIRST FULL SEASON OF PLAY IN OAKLAND
Who managed the A's during their 3-time consecutive world series championships:
1972 Dick Williams
1973 Dick Williams
1974 Alvin Dark
MEMORIES
"Kiss my Ass!"

 Charlie "O" astride Charlie "O" If you wanted to be Charlie's friend you had to kiss his ass.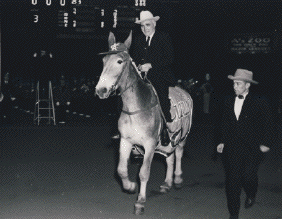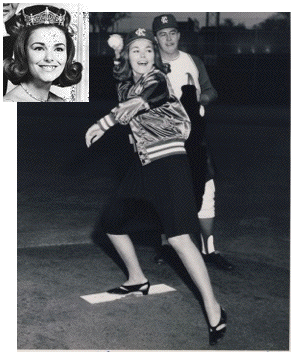 ABOVE – : 1966 Miss America Debbie Bryant throwing out
"the first pitch" at opening night in Kansas City 1967. Catfish
Hunter looks on behind.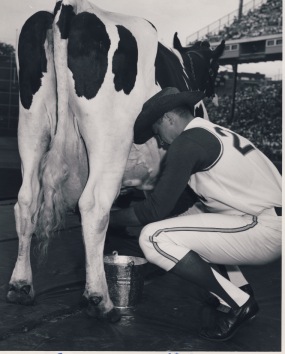 ABOVE: Catfish Hunter tries his skill on the "Milking contest" night 1967.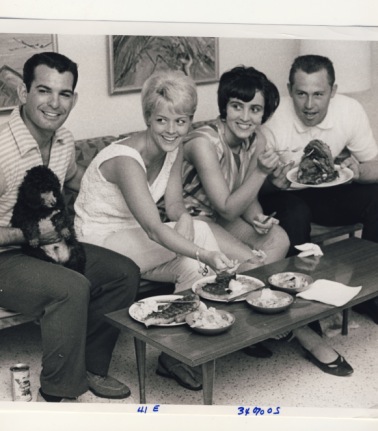 ABOVE, from left, Ernie and Pam Fazio, Mrs. and Mr. Jim Hunter, 1967.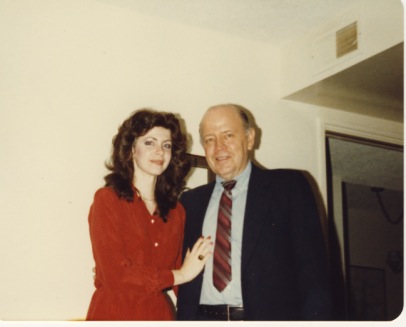 1979, Carl Finley, the "unseen hand" behind the team's success, with his daughter, Nancy Finley, the A's "Dugout Daughter." She came of age amid the tumult and glory of baseball history.
ON THE OCCASION OF CARL FINLEY'S DEATH, U.S. SUPREME COURT JUSTICE JOHN PAUL STEVENS PAID HIM TRIBUTE IN A LETTER TO NANCY FINLEY.
Click Here To Read Justice Steven's Letter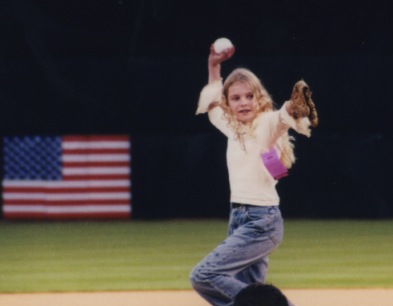 COMES FULL CIRCLE: A quarter of a century later, Nancy's
daughter, Taylor Finley-King, age 10, throws out the first pitch at the Oakland A's game against the Detroit Tigers, April 23, 2003.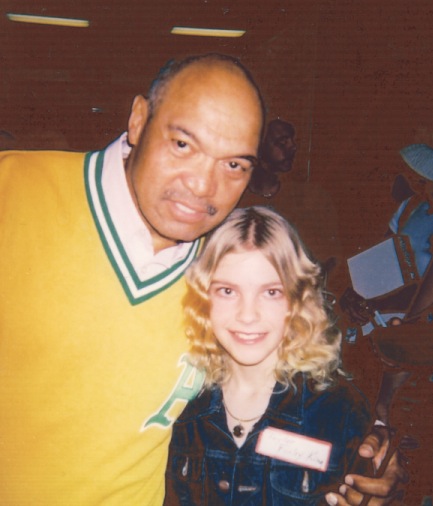 Taylor Finley-King, age 10, gets a hug from legendary Reggie Jackson. Taylor is the grand-daughter of A's Vice-President Carl Finley, who managed the team's affairs during the big years. It will be a long time before young Taylor understands how Jackson and the Team of The Century imprinted a legacy of sacrifice and excellence that will affect her life.